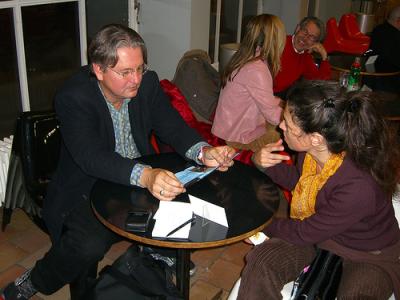 In this ArtCast
: Patrik calls up Barbara for the intro and catches her @
the mitte
. She explains where we met Bruce Sterling: @ the first edition of
the tweakfest
. And she uncovers what's her connection to him. Then a hard switch over to the interview, where Bruce talks about "black globalization", the chances for a "positive al kaida", his impressions of Zurich and the role Switzerland as a country could play in the world.


Listen and enjoy
!
By the way:
There is a blogpost @ InVisible Blog
about Bruces presentation.
UPDATE 30.11.05:
Bruces speech @ tweakfest
is now online too @ InVisible Blog.
patpatpat - 11. Nov, 14:23