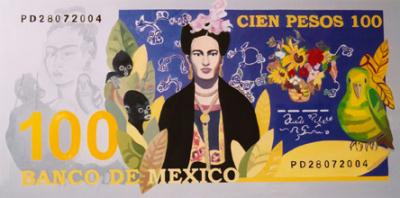 In this ArtCast
: Pola Dwurnik, a young polish painter on her current exhibition of oil paintings at Basel's
Austellungraum Klingental
. We spoke of her renditions of banknotes, imagined Cien Pesos with Frida Kalo (above),
a series of self-portraits
based on traditional classics, and others based on x-rays of her own body. Oilpainting is a skill she learned as a child from her own
father Edward
. The 16 new paintings were created during her stay as artist in residence at Stiftung Laurenz-Haus, Basel.
Listen and Enjoy!
patpatpat - 10. Sep, 17:55